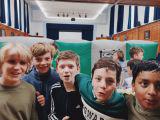 On Friday 30th September, over 200 Year 7 students took part in Action Day, when they had the opportunity to try lots of different sports and activities, including a climbing wall, fencing, archery, laser tag and skateboarding. Here is a selection of photos from the day.
The Big Pedal organised by Sustrans, between 23rd and 30th April, is a campaign to encourage more students to cycle to school. This year at HBS we turned the challenge into a house competition. Each year group was assigned different days and House captains were out in force each morning to record the cyclists and encourage participation. We also looked into ways that we could improve the students' understanding of their bike by offering a free bike maintenance course from a qualified local mechanic and also by getting the police in to stamp the bikes for free to help security. Overall the Big Pedal wa a great success, with the average number of bikes going up from 30 a day prior to the event to 65 during the event, with 390 cyclists over the 6 days. Results of the House competition will be announced on the last day of term.
Here is a selection of images from the various activities on offer as part of Mental Health Awareness Week, which took place from 10th - 16th May 2021.