HBS retains Outstanding status!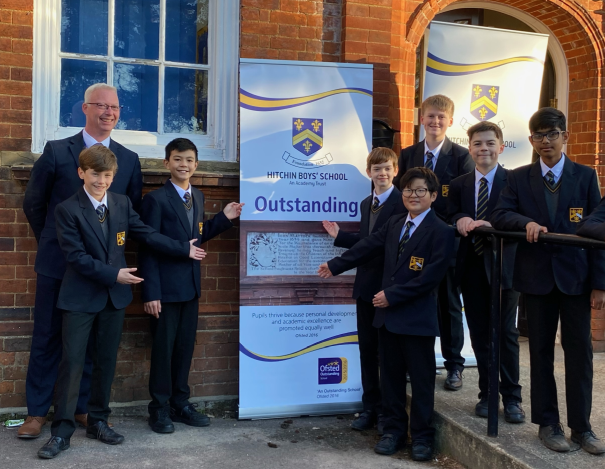 Following Ofsted's visit to Hitchin Boys' School in September, we are delighted to announce that we have once again received top marks by retaining the judgement of 'Outstanding'.
Inspectors visited the school for two days, conducting curriculum reviews and lesson observations followed by a number of focused analyses on behaviour, safeguarding, personal development, special educational needs and fostering of reading. The inspectors met with groups of students, the Headteacher, members of the Senior Leadership Team, heads of subject departments, pastoral leaders and members of the governing body.
As the Ofsted report says succinctly: "The school continues to be an outstanding school."
Inspectors concluded that the curriculum at Hitchin Boys' is highly ambitious for all students. It is designed very well and ensures pupils not only learn rich subject knowledge, but also grow in their awareness of the world around them. As the report noted, "The school is a calm place for pupils to learn and be themselves."
Inspectors noted that staff have very high expectations and want the best for all students. Consequently, students behave extremely well and feel safe. Students are enthusiastic about their learning and develop a rich understanding of the subjects they study.
The inspectors also commented that students with special educational needs are able to fully access the curriculum and achieve very well. Further comment was made upon the effective development of reading skills, use of digital technology in lessons and for remote learning and the variety of clubs and extra-curricular activities that are accessible to everyone.
Headteacher Fergal Moane commented: "This judgement recognises the wonderful school that Hitchin Boys' is, and is a testament to the hard work and efforts of the students, staff, parents, governors and everyone associated with the school. This has been a particularly challenging time in sustaining education during the Coronavirus pandemic, and inspectors recognised the effort that had been put into remote learning and ensuring that students were supported to minimise lost learning. I am very proud indeed of everyone who contributed to this achievement, and to serve this wonderful school as Headteacher. I would particularly like to thank parents and staff for their warm feedback and how proud they are of the school. We will now focus upon how we can continue to improve Hitchin Boys' into the future".
The full report will be available on our Ofsted page shortly, but in the meantime you can download it below.